Richard Fawcett…
Sheep Dog Demonstrations & International Trialist.
Working Sheep Dogs
as seen on TV...
Demonstrations



Demonstration Times & Prices

The demonstrations in 2019 will take place regardless of weather conditions every Thursday.
Demonstration times:
Start time: May to August – 18:30;
September & October – 14:30.
Duration approx. 1hour 15minutes.

Demonstration Prices
Admission charge: £5.00 adult, children up to age 5 are free,
aged 5 to 15 are £1.00.
The show is geared for all the family with lots to keep both old and young entertained. Richard gives an introductory talk on local farming history, the area, the sheep, and his dogs.
The action is interspersed with more interesting information and anecdotes, and concludes with an opportunity to ask questions.

There will be an opportunity to watch Richard and his dogs in a working environment showing:
flock work
a typical sheepdog trial
young dogs at various stages of training and ability
two dogs working together
About Richard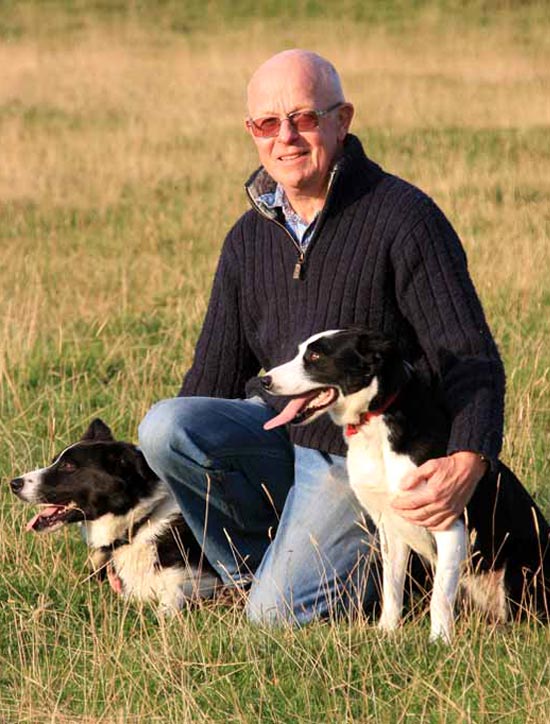 Sheepdog handler & demonstrator

Richard Fawcett, a local farmer and sheepdog handler, has been demonstrating his working sheepdogs on a regular basis for over 30 years at his farm in beautiful Upper Wensleydale, near Hawes. He has been involved in sheep dog trialing and demonstrations for many years and has featured on several TV programmes.
"Learn about the trials and tribulations of hill farming at weekly sheepdog demos run in the summer by farmer Richard Fawcett..." as featured in The Guardian.

In 1987, Richard did a sheepdog demonstration on the farm for the local church. It was so popular that he decided to do a few more that summer. Since then, from May to October, every Thursday, " rain or shine ", on the Old Golf Links, half way between Hawes and Hardraw, there's been a demo.

Since 1918, The Croft, Hardraw has been farmed by 5 generations of the Fawcett family. Richard, being the 4th family member, has lived in the village all but 4 years of his life. Until 1992, it was a sheep and dairy cow enterprise. More recently, it has become a predominantly sheep farm with an accompanying small herd of Simmental beef cattle...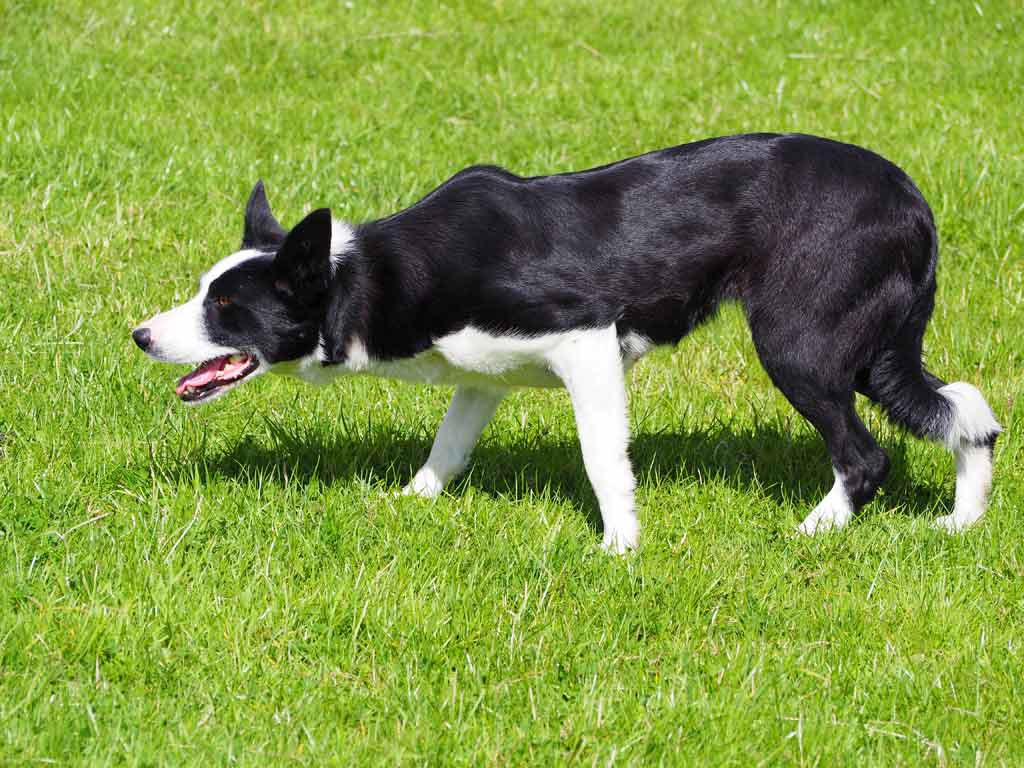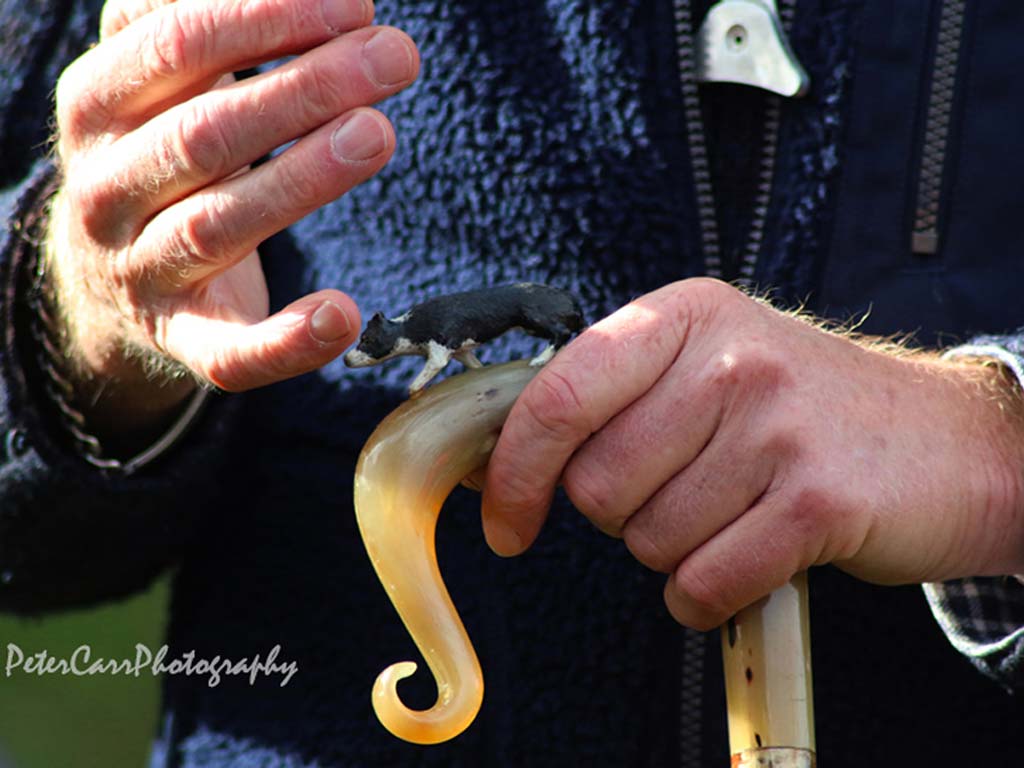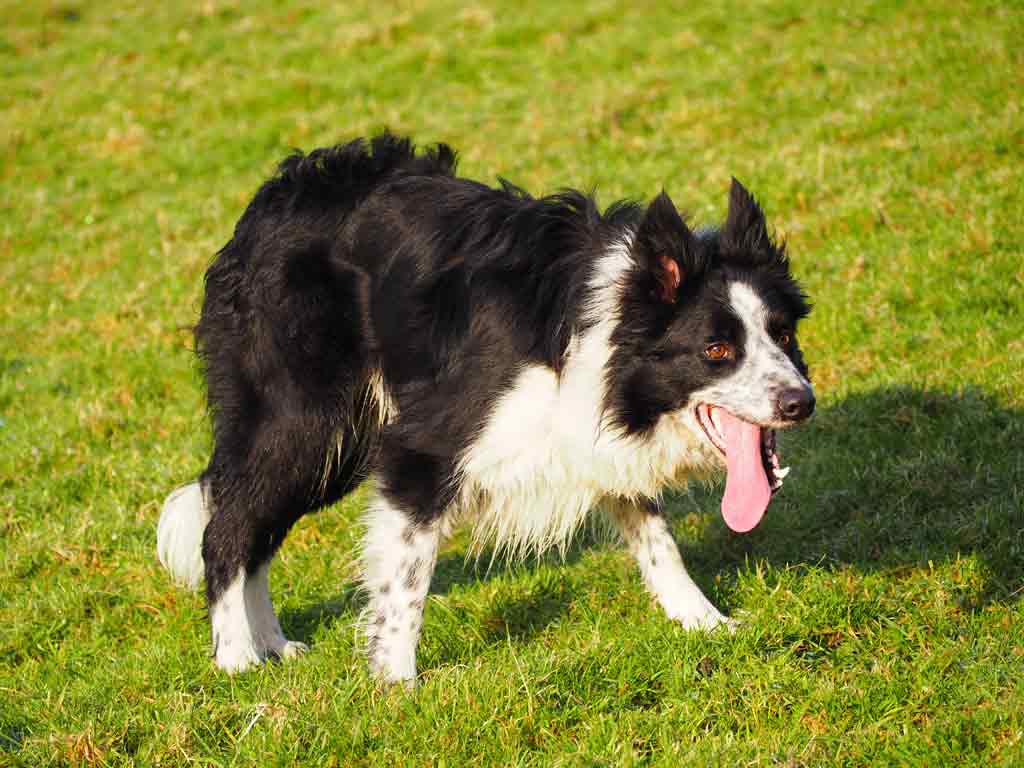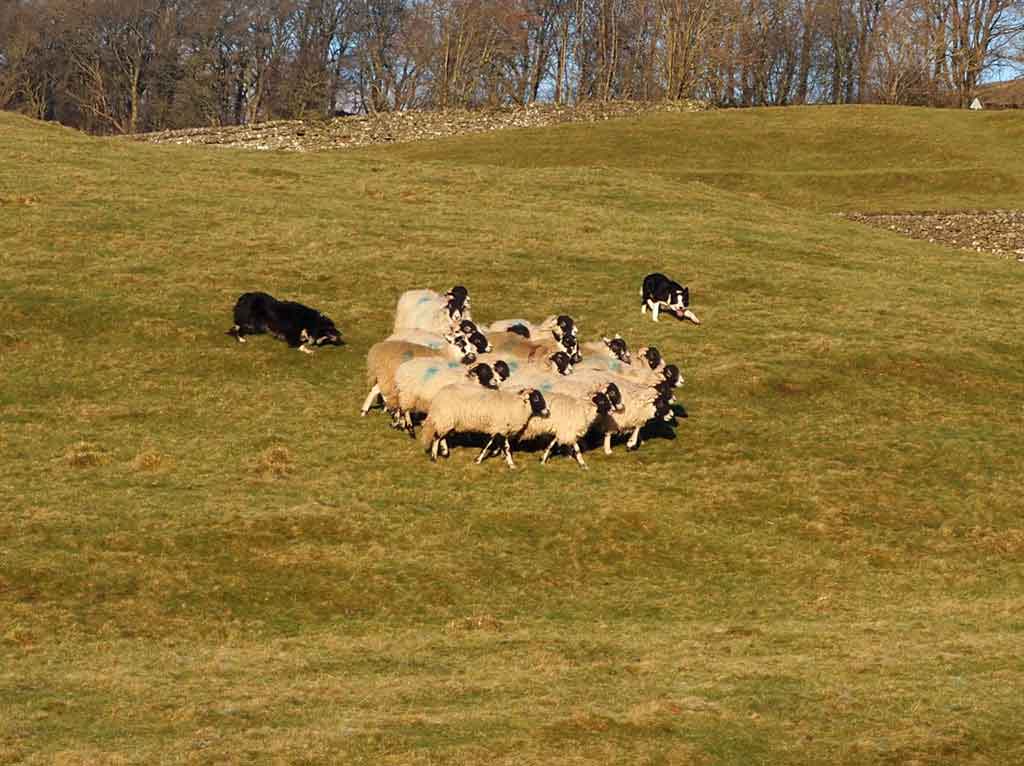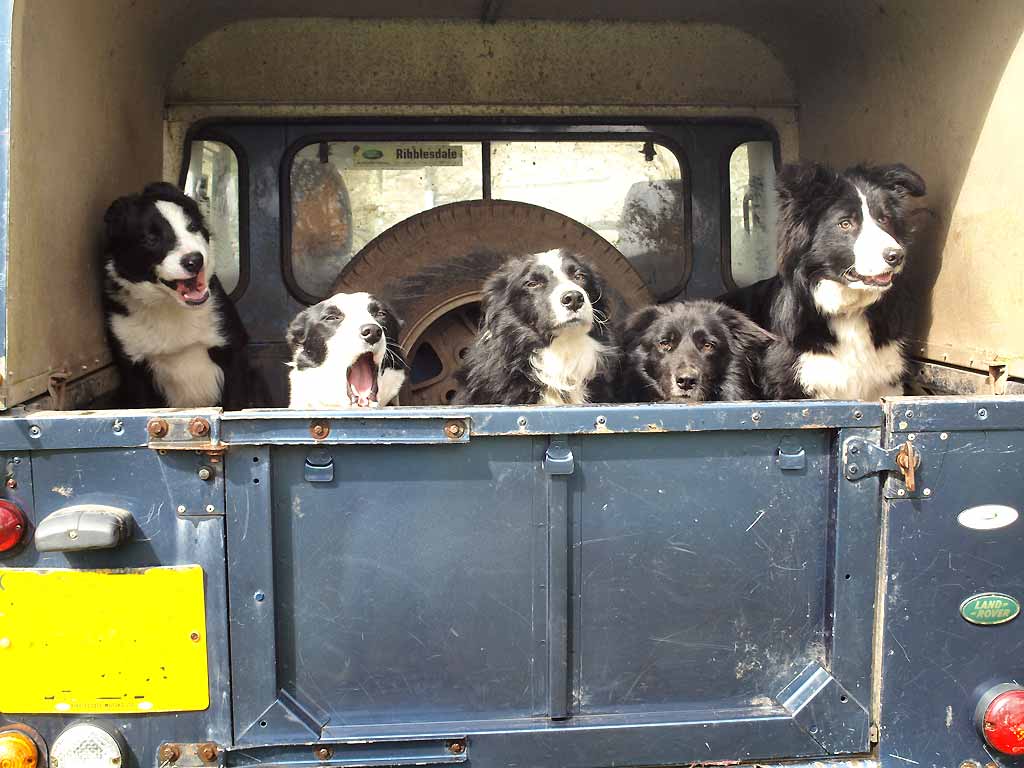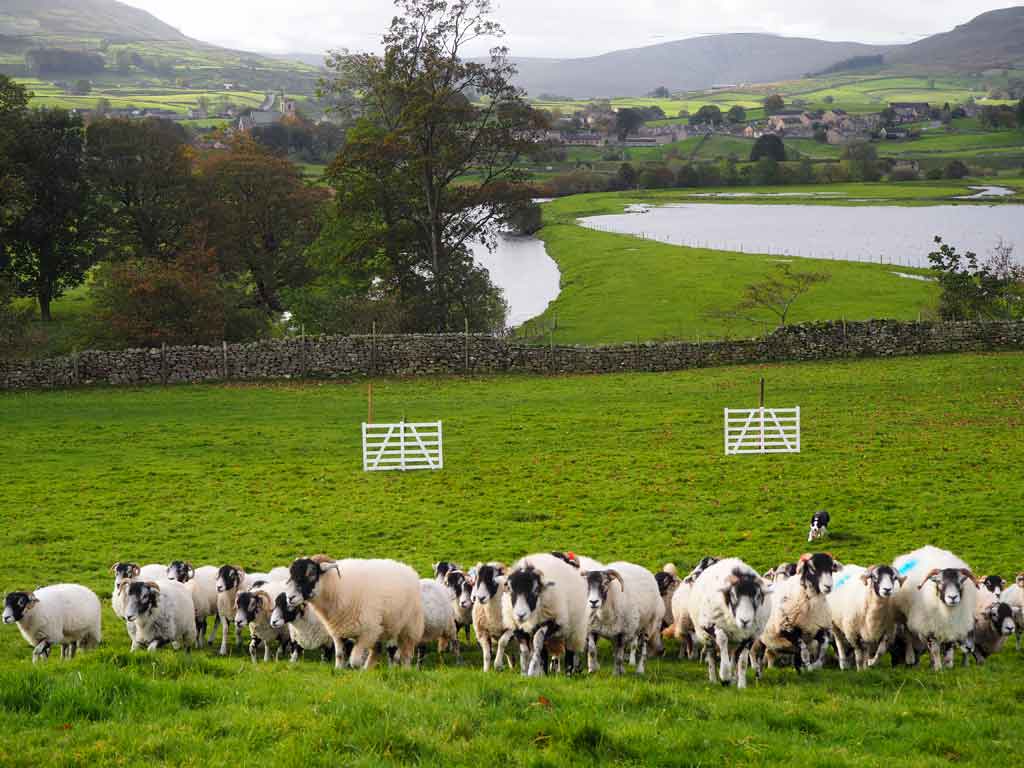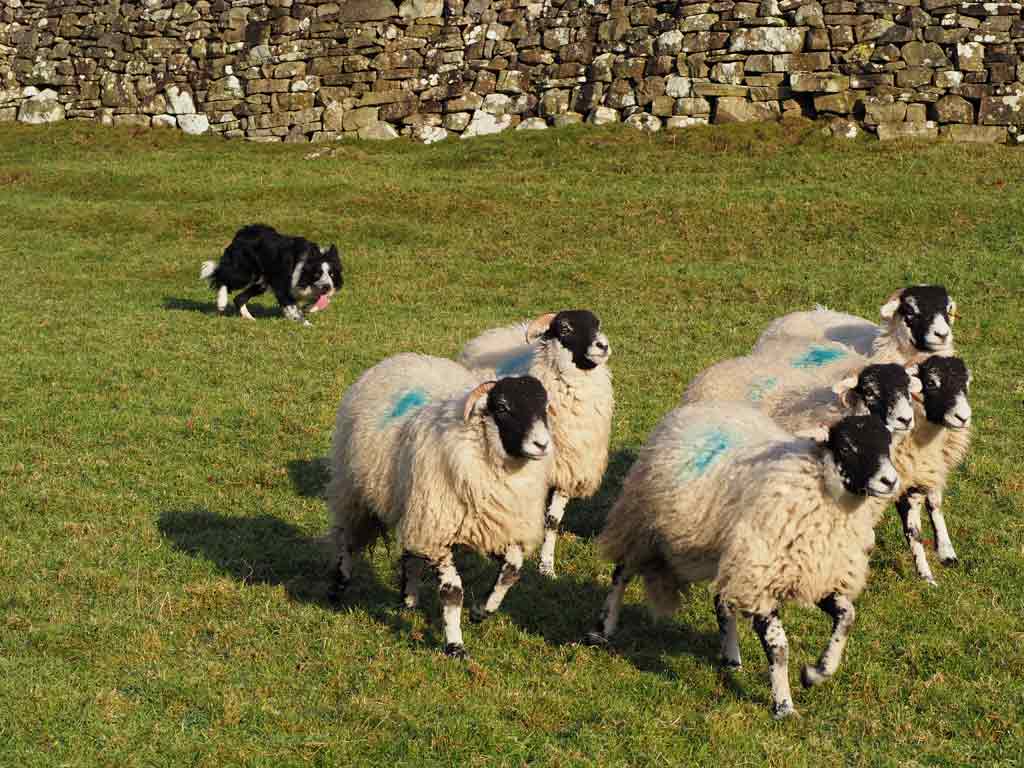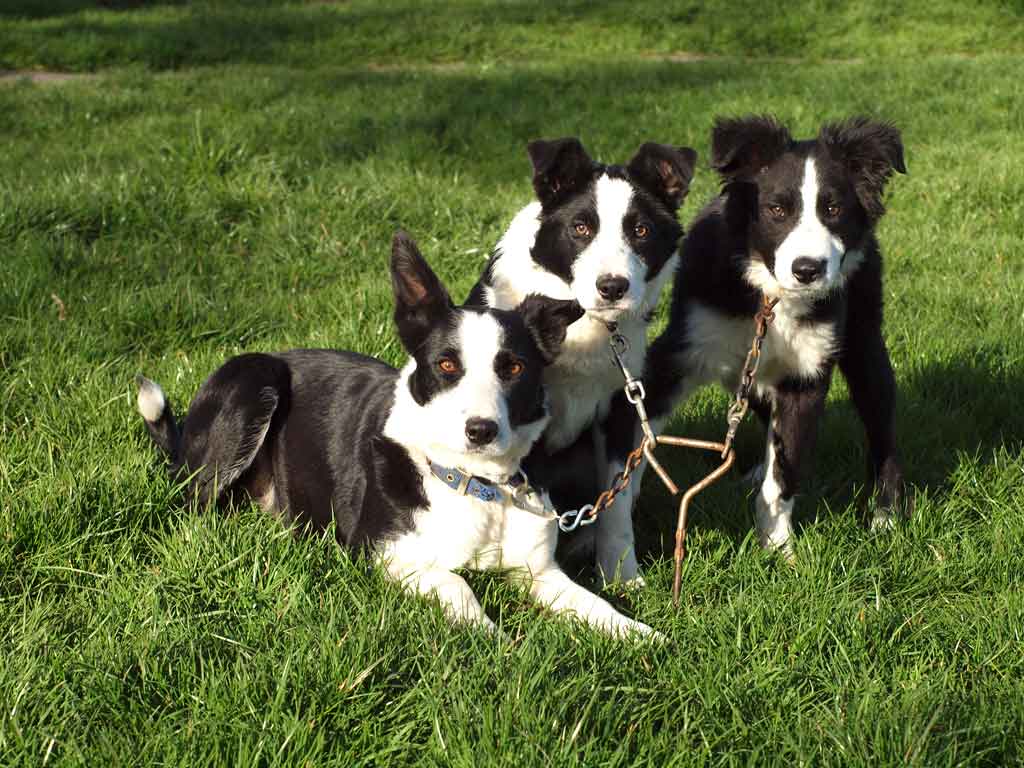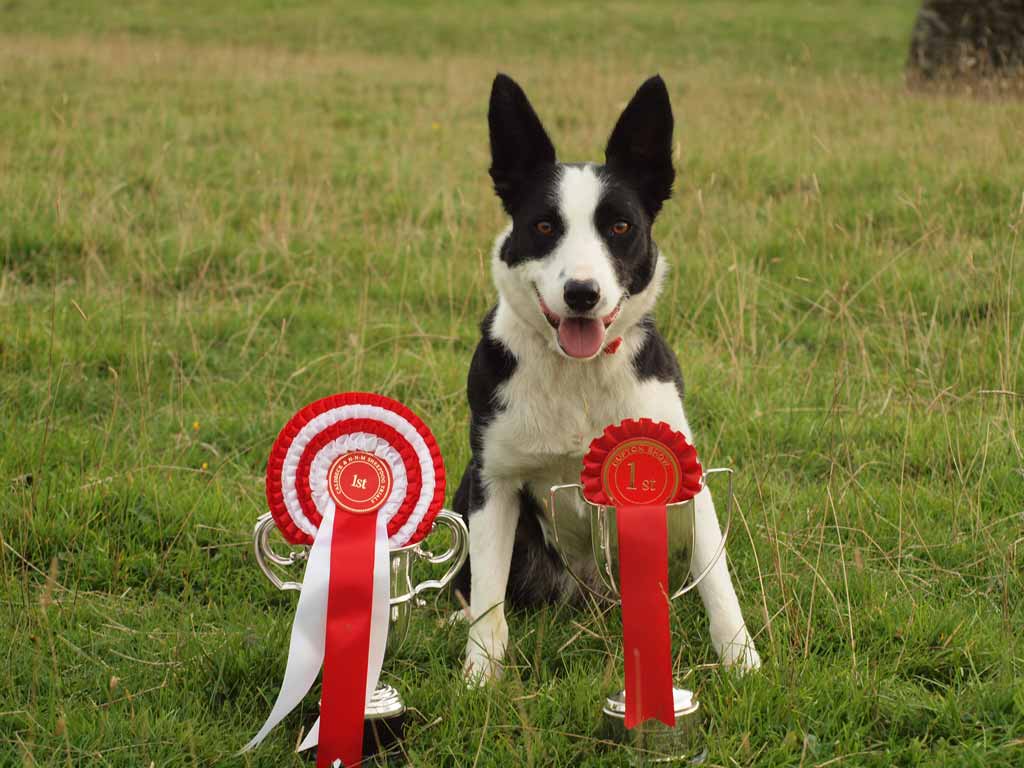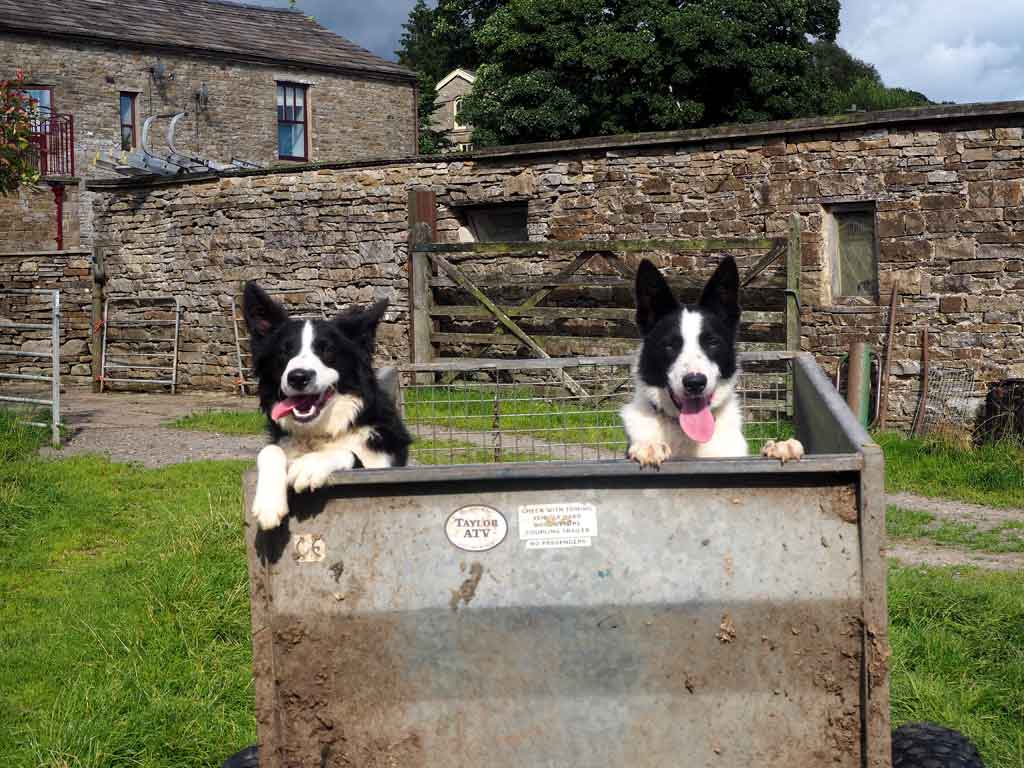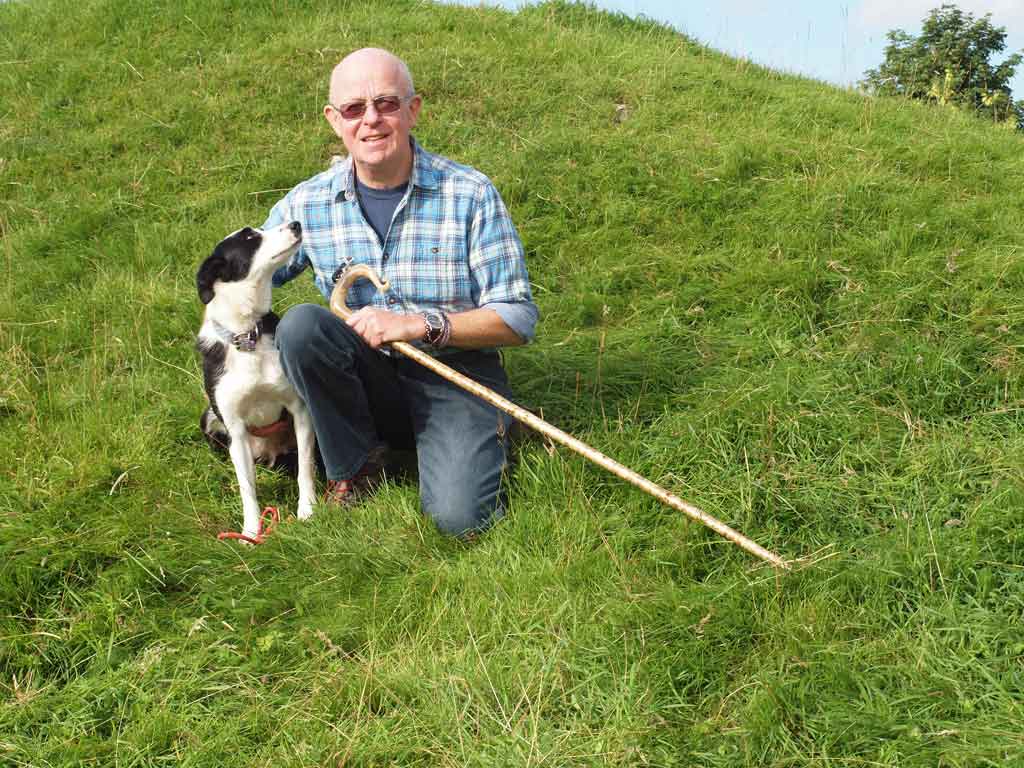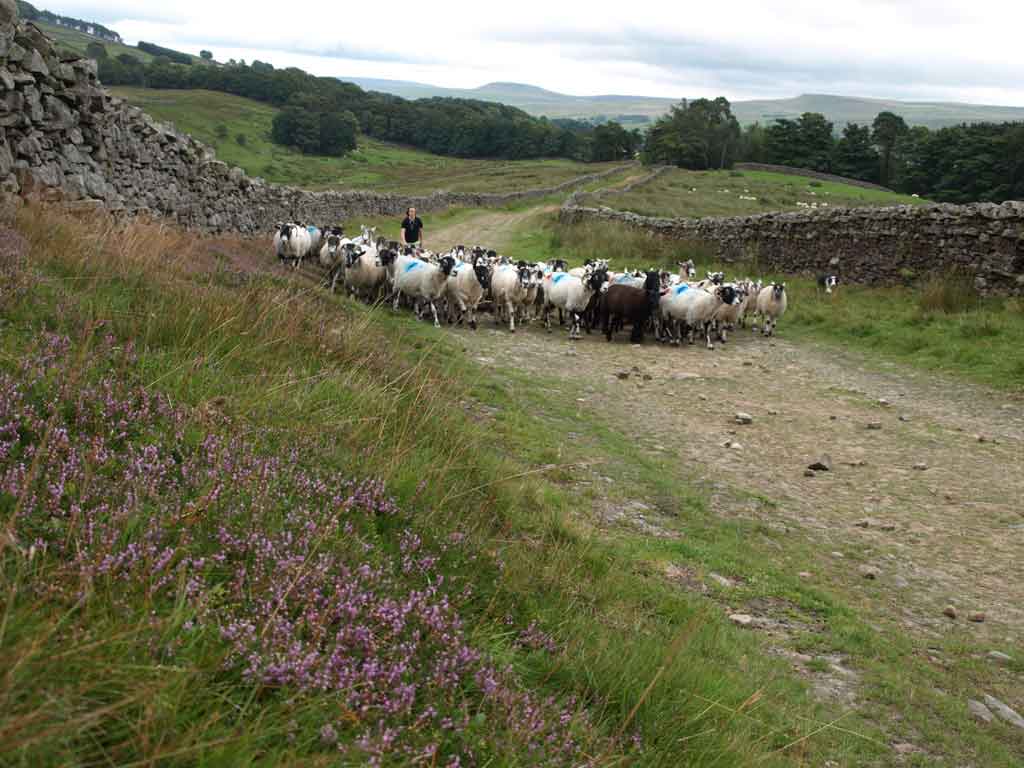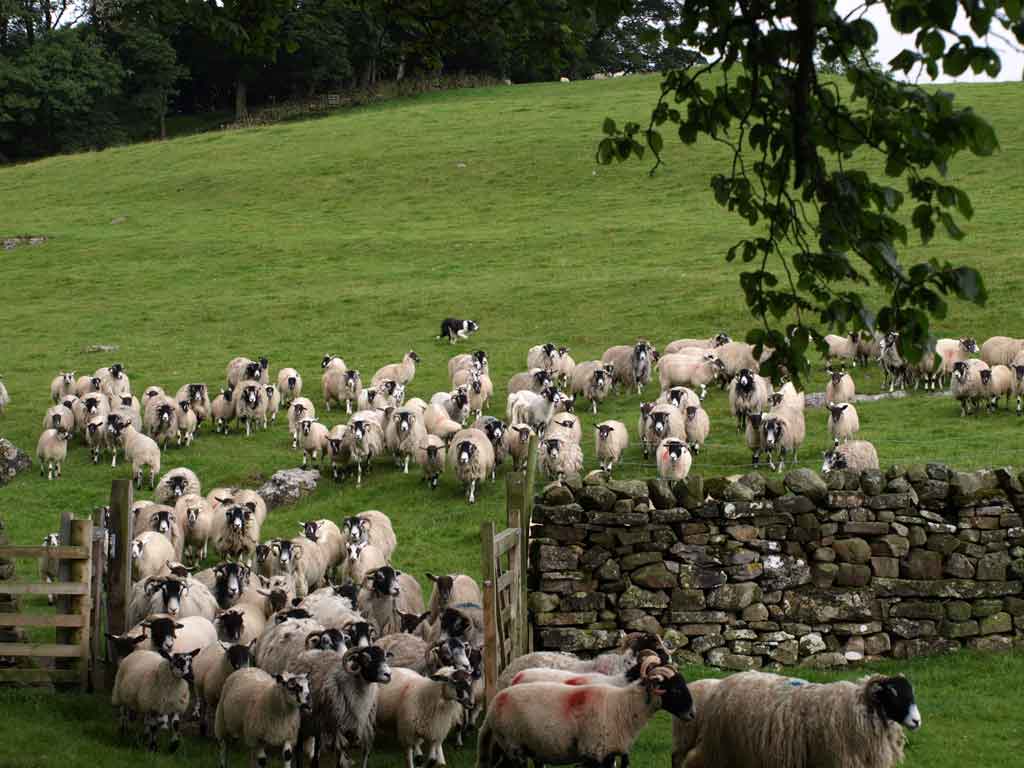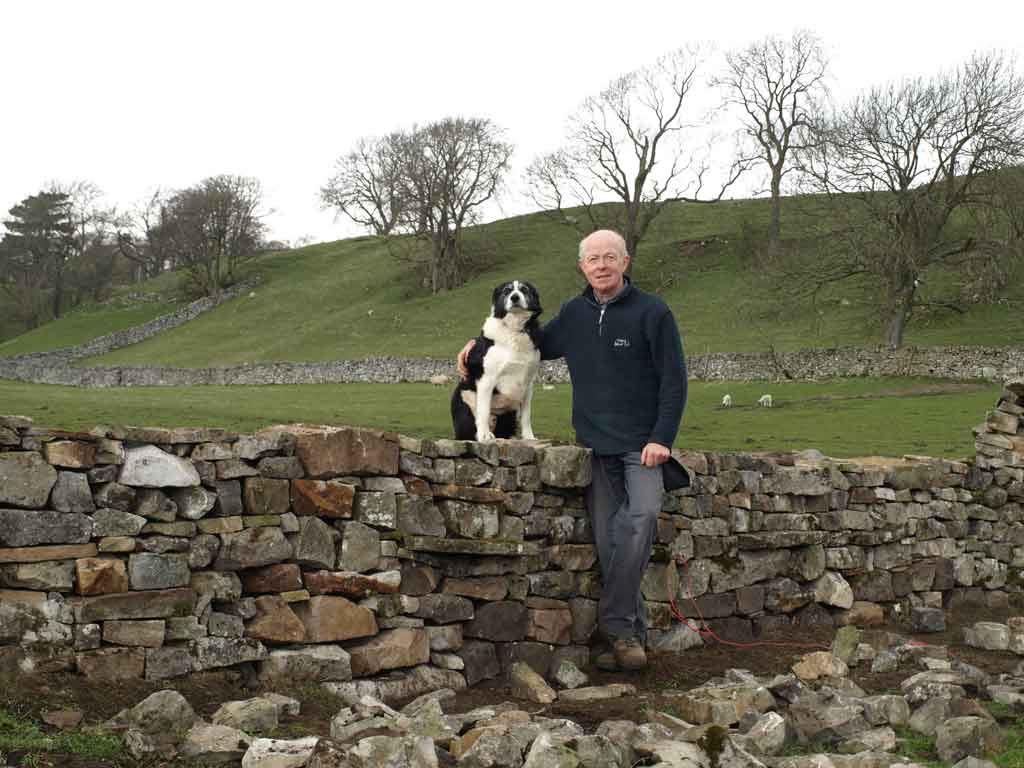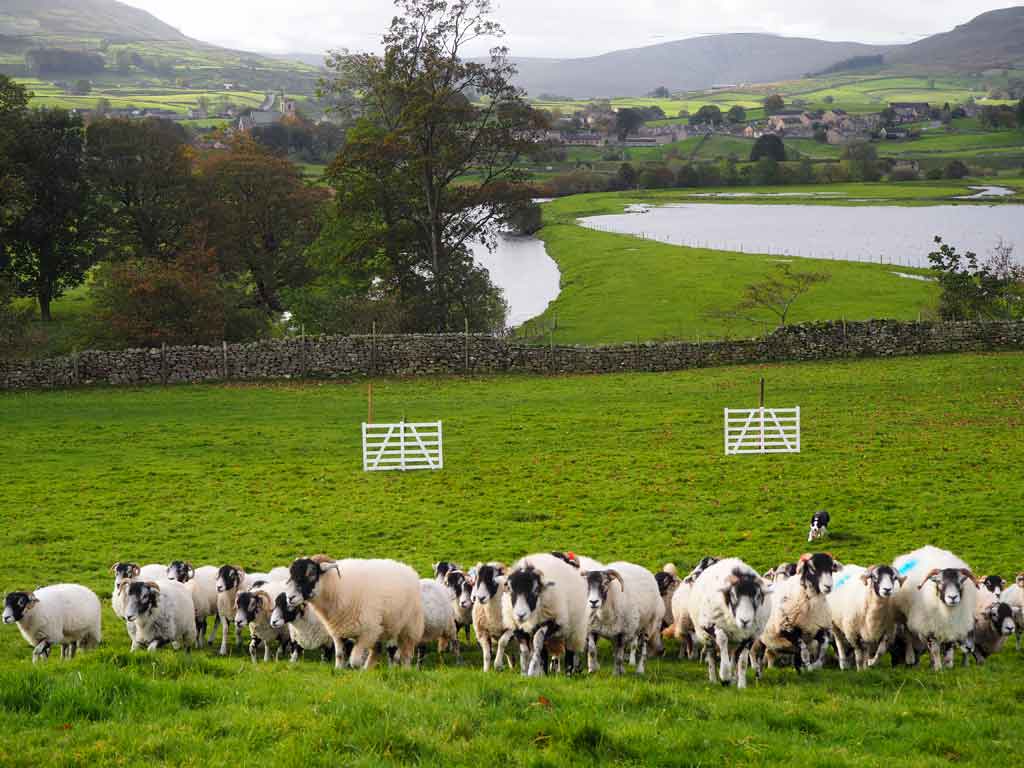 Working...

Without the dogs, it would be impossible to run a farm like this. They are referred to as Sheepdogs, but, in fact, their proper name is Border Collie. Their work instinct is second to none. At a very early age, they will begin " eyeing ", or stalking the sheep, and wanting to herd them. But not only sheep; they are keen to work cattle, horses, pigs, and all manner of poultry too. Throughout much of the year, they are working most days. At lambing time, in the Spring, they are exceptionally busy. Gathering the flocks, during Summer, for dosing, for shearing, footbathing, and general care, requires them to be really fit. The Autumn sales preparation keep man and dog occupied on a day to day basis. Only in winter are the demands on the dog not so onerous, but even then, the increasingly pregnant ewes must be checked for husbandry needs.
The Dogs...

2018' s dogs comprise Lola, Glen, Wills, Mick and Keef.
Lola, now 5 yo. home bred, daughter of my daughter's Maddie, is my main stay. Very talented, courageous, endless stamina and pluck. Sheer class and beautiful with it.
Has had a lot of success on the trial field, and particularly when qualifying to represent England in Wales at the 2016 International, and, in Holland at the 2017 World trials.
Glen (4 yo), nearly all black, a workaholic, fast, and a superb flock dog. Lola and Glen are great work partners on the farm. My brace team.
Wills (2 yo), another " class act ". Young, but a really exciting prospect. Quick thinking, and a lovely " feel " for sheep. Already proving to be one of this season's best young nursery trialists.
Mick and Keef, born Nov 2016, from Lola's first litter, and sired by Hutchinson's Jock, the 2017 Supreme International Champion. Both really promising juveniles, very keen, great temperaments, and quick learners. Mick is a " get on with it " individual. Keef has style; a thinker.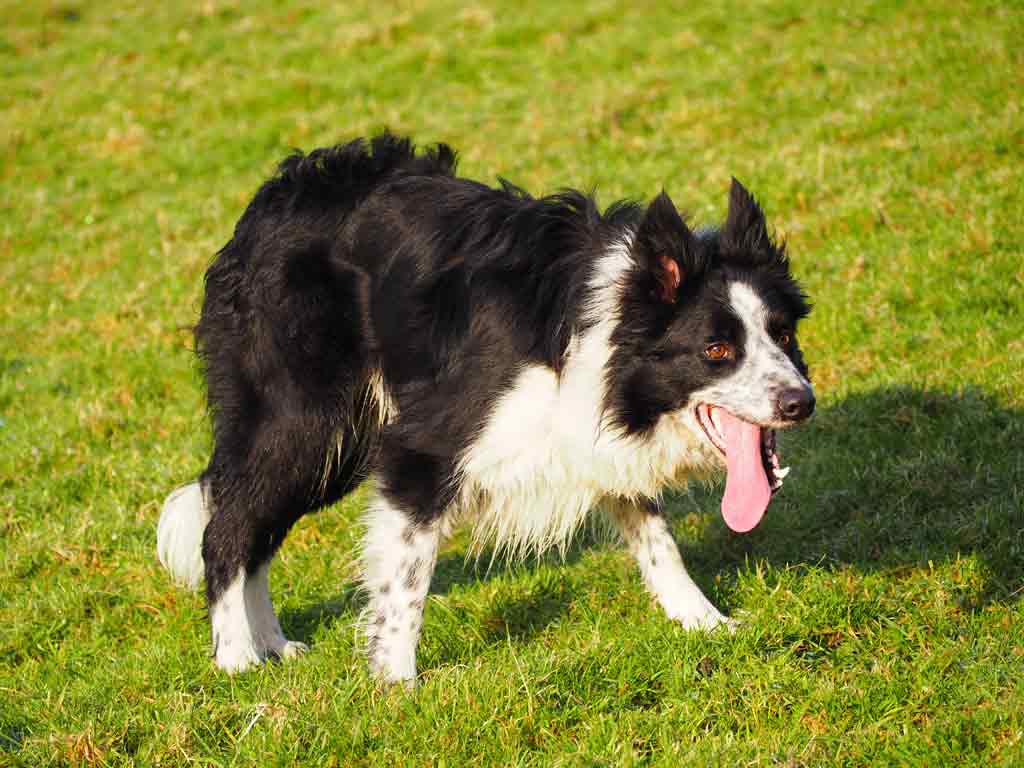 ---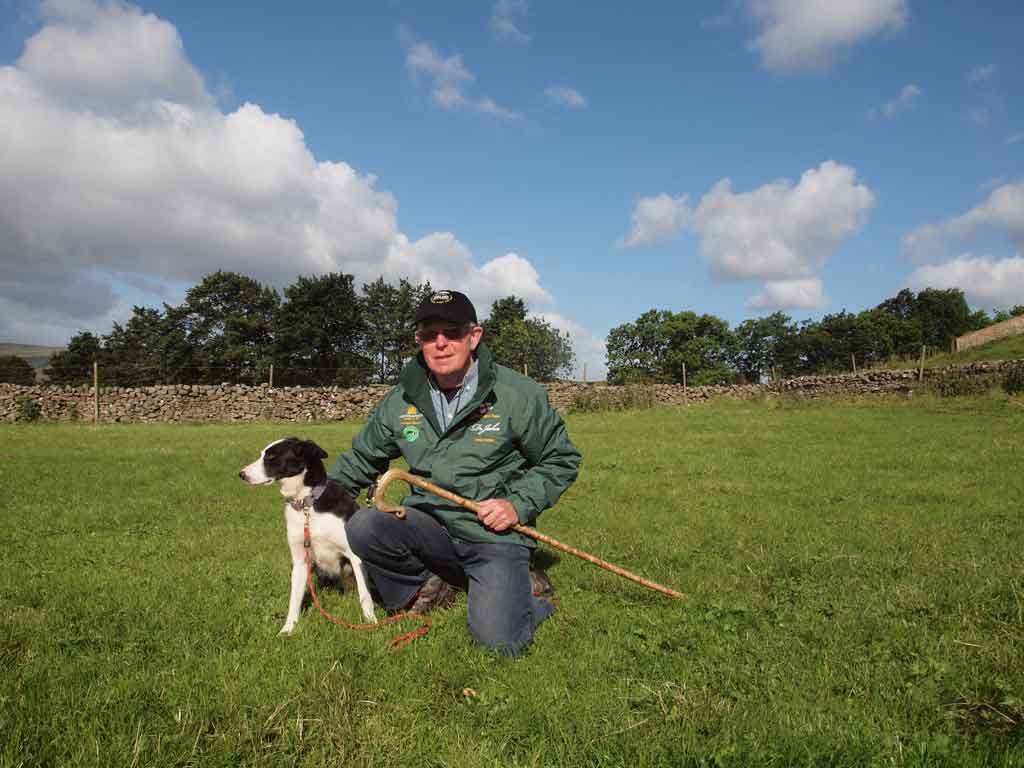 Dog Trials...

Richard began competing at sheepdog trials way back in 1975 with his first registered dog, a bitch named Nell. A few years on, the pair went on to represent England at the International trials at York. 2 years previously, with his 2nd dog, Zeus, he competed for England at the Blair Atholl ( Scotland ) International.
Subsequently, having done much trial judging in England, he was invited to judge in Florida, USA. This led to 16 visits to the States and Canada, over a period of 10 years, judging over 60 trials, and giving numerous sheepdog training clinics. Three times, he has judged in South Africa, including their Nationals on 2 occasions.
For many years, other commitments restricted the number of trials he could attend. But now, with Lola, he is frequently competing all over the North of England.
Latest news...

Wills on a winning streak...

Wills has had an excellent season in last Winter's trials for young dogs. Competing all over Cumbria, Lancashire, Durham and Yorkshire, he has had many successes.

In Norfolk, in February, he was 4th in the English Nursery Finals, and his season culminated in March by winning 4 regional Championship trophies.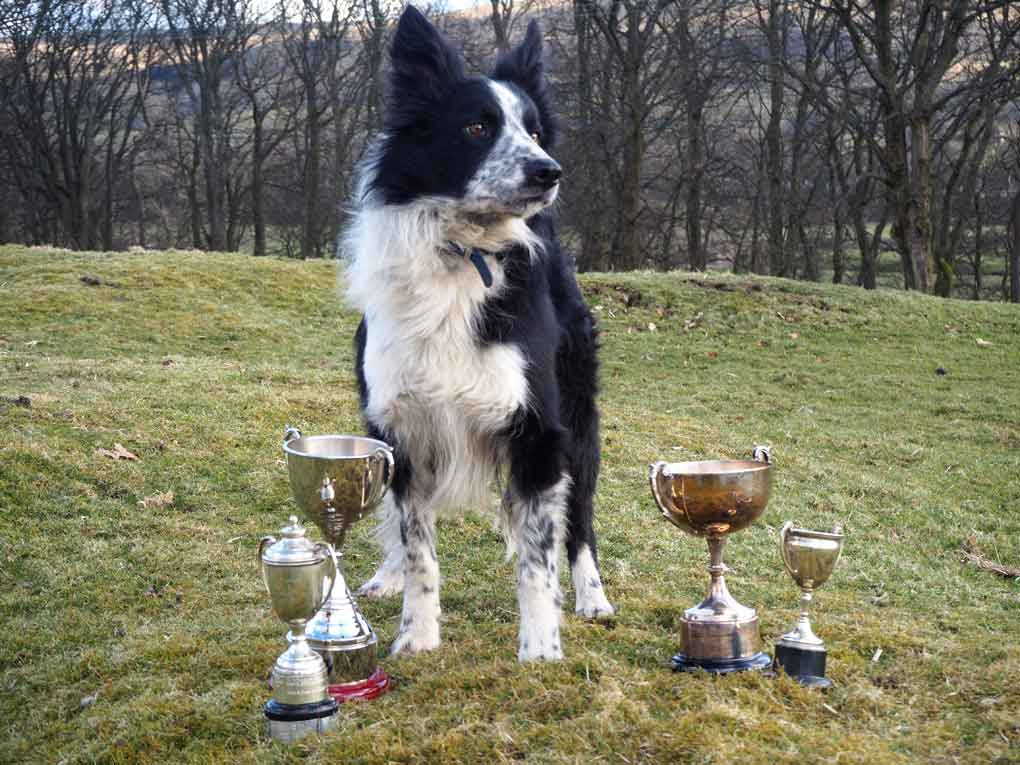 Lola has her pups...

In mid January, Lola had her second litter of (5) pups, sired by Hutchinson' Jock. I retained the only male, and called him Solar. I hope he's as good as his older brothers.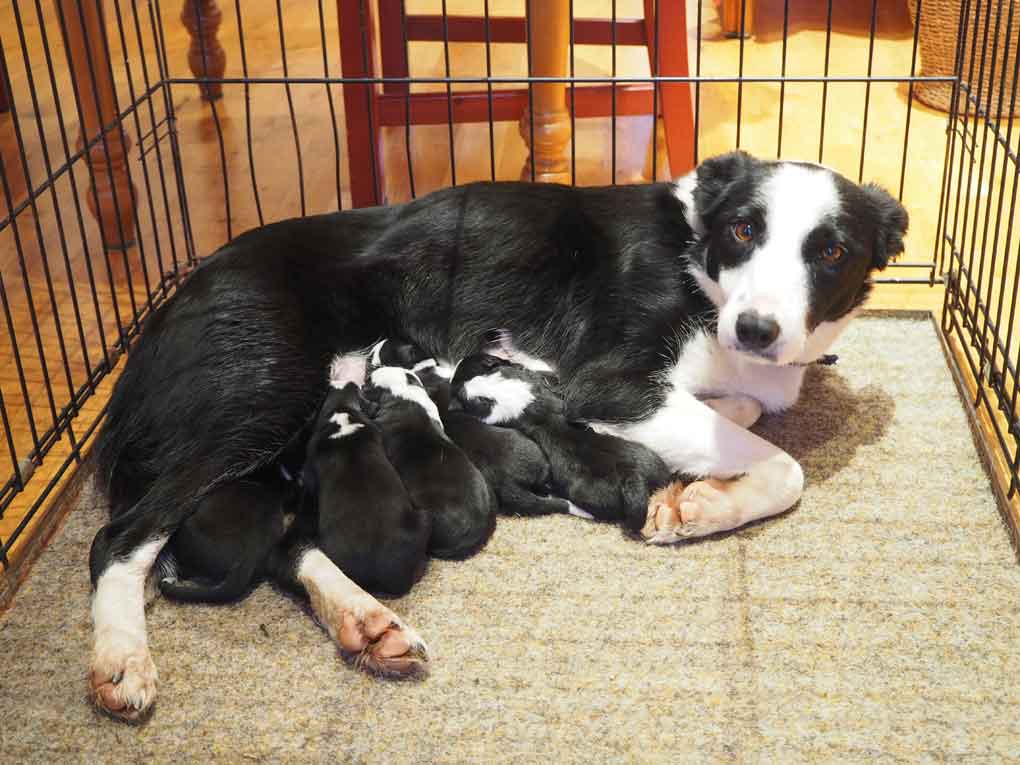 ---
What some of our visitors have said...
"I really enjoyed watching Richard demonstrate the dogs' abilities. He and the dogs are very highly skilled. A pleasure to see..."
Pete. 2017
"Totally enthralling to watch. I couldn't believe the skills of the dogs and Richard. Not to be missed as part of your Dales visit..."
Jan. 2017
"Great to see the dogs being put through their paces by Richard. Totally unique.
Probably not see this in many places..."
Eric 2017
---
See real working sheep dogs...

---